CHECK OUT THE SEASIDE CAROUSEL MALL
THE SEASIDE CAROUSEL MALL
The Seaside Carousel Mall is a mall offering unique shopping from over 15 vendors. While some of the fun shops can be accessed via Broadway, the bulk lie inside of the little mall. There you can find a restaurant, coffee shop, old-time malt shop, a toy store, Seaside apparel and so much more. The concentration of fun inside the Carousel Mall makes for a must see on your visit to Seaside. So grab a friend and take a spin around the famous Carousel – you're sure to make memories that will last a lifetime.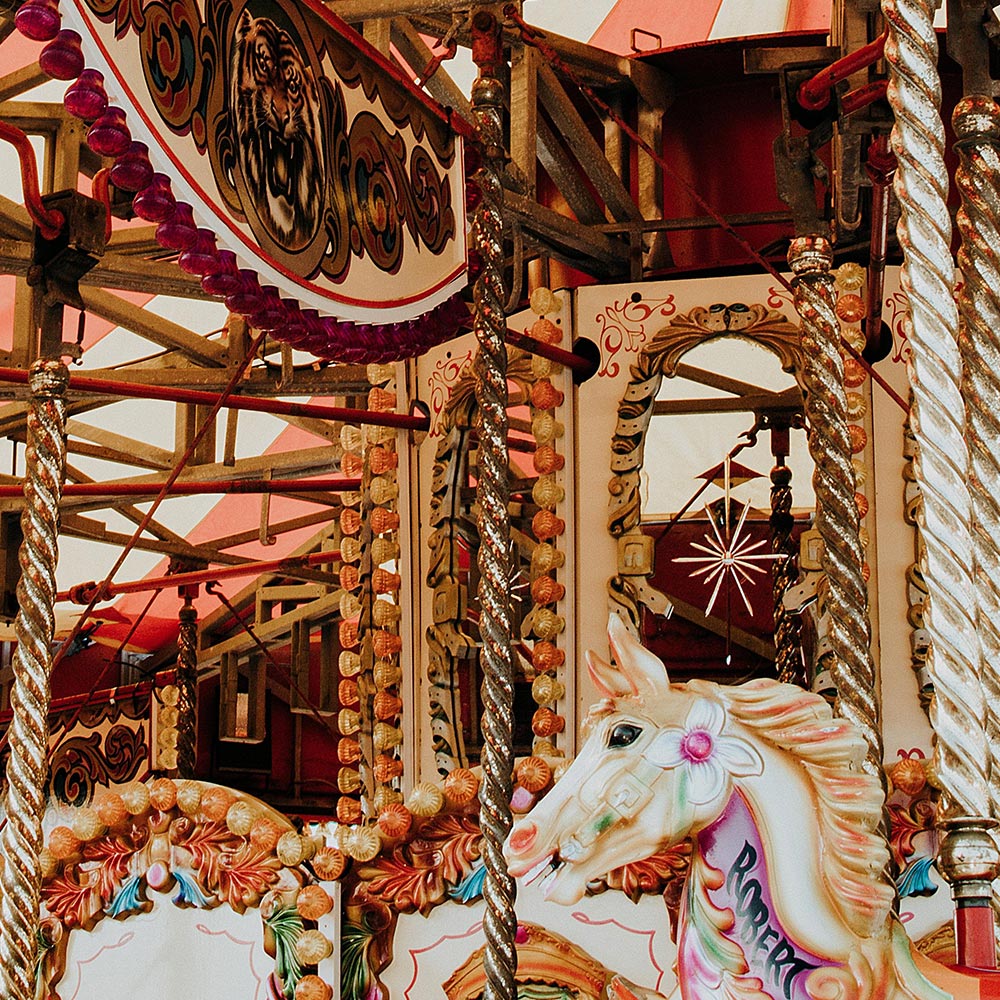 The Carousel Mall was built in 1985 where the old Bungalow Dance Hall once resided. The Bungalow Hall was built in 1920 and served as a popular dance, and concert hall for more than 20 years. Some of the biggest stars of the 1920s, '30s, and '40s graced the stage in Seaside – the likes of Duke Ellington, Bob Crosby, and Glenn Miller all played there. Big bands during the '30s and '40s quite often had rising Hollywood stars making the Bungalow a hot spot for those hoping to make it in the entertainment industry. It has been said that many bands strived to play here as they knew they would get exposure because of how popular Seaside was for vacationers at the time.
The Carousel and Other Fun
The Seaside Carousel, the mall's namesake, has long been one of the most memorable spots in town. The Carousel, located in the center of The Carousel Mall, is composed of 16 different animals to choose from. Aside from the classic horses, the Carousel also houses a seahorse, a Giraffe, and Ostrich and so much more. Do you have a little one too small to ride alone, or just doesn't want to? Choose from one of the benches that can sit up to 3 people for your turn on the themed ride. Check out all of the Carousel animals here.
When you're done riding the carousel check out the newly updated arcade and choose from any of their 30 classic games. Looking for something more interactive? The mall recently added a Laser Tag Experience. Play with their state of the art LASERTRON equipment in a 3,300 sq ft, multi-level laser tag arena. Check out the Laser Tag Experiences hours and rates here.
Like we mentioned before, the Seaside Carousel Mall is home to 15 fun shops. Located in the middle of town, the mall in Seaside is a popular spot for residents and tourists alike. From Broadway, access Flashback Malt Shop. With a 1950's interior and menu to match, this is one of our favorite spots in Seaside and is like a flash from the past. Check out the soda fountain, and grab a banana split or a malted milkshake to sip on. In addition to their yummy treats, they have a wide array of memorabilia, trinkets, and prank toys offering a unique shopping experience. Next door, check out Rascals and grab yourself some classic Seaside apparel, or one of their many Salt Water Taffy flavors. In addition to classic Salt Water Taffy, they have bulk Jelly Bellys, gourmet candies, and other delicious sweets.
While all 15 shops are unique to one another, between them all they house a wide variety of Seaside memorabilia, toys, beach essentials, and so much more. Check out Seaside's Mostly Hats store and try on one of their funky hats for a cute photo-op, or buy something to help you remember your time in Seaside. Stop by by Mary Annas $9.99-$19.99 Store for 2 storefronts full of Seaside and Oregon themed shirts, sweatshirts, sweats and more.
Not interested in purchasing the same memorabilia as everyone else? One of our favorite spots in the mall is Oregon Coast Portraits. One of the smaller spaces in the mall, David, the resident artist, sketches funny or realistic pictures of you and your family. In addition to cartoon caricatures, and lifelike portraits, David also does art design and professional sign lettering. Love your picture and don't want to risk wrinkling it on your journey home? Oregon Coast Portraits recently added a framing department! Bring in any photo to have professionally matted or framed, or have him take care of your portrait on the spot. Flying or just don't want to haul the photo around with you? They ship! This will likely be one of your favorite takeaways from Seaside and we highly recommend it to anyone visiting.
Need a pick me up? Caffe Latte features Longbottom Coffee Roasters from the Portland, Oregon and has been a coffee hub since it opened in 1990. If you're feeling hungry check out the only restaurant inside the mall – New Garden Asian Cuisine. Featuring Asian dishes, New Garden Asian Cuisine is one of our favorite Chinese restaurants in Seaside. Check out their website to view their menu, hours, and daily specials. If you're looking for something else, simply step onto Broadway Street from multiple points in the mall and check out one of downtown Seaside's many restaurants, bars, and cafes. Or, as mentioned before, stop by Flashbacks Malt Shop for some Ice Cream or other old-time favorites.
Check out this video below for some more ideas on what to do when the weather forces you inside –