Seaside Oregon Restaurants
Long known for street foods like elephant ears, ice cream and salt water taffy, Seaside's eclectic dining scene has flourished lately. Seafood is still commonplace – with a new crab boil, sushi and about 20 chowders at last count – but we also offer a variety of ethnic restaurants and pubs, traditional American, exceptional Italian, a world-class bakery, and pizza by the pie or by the slice. Is it time to eat yet?
Explore the North Coast Food Trail
Tune in to the seven food/drink spots in Seaside with an eye on local ingredients and sustainability.
Dough Dough Bakery offers at least 15 items in the case each day, ranging from sweet to savory and even gluten free and vegan. They are are always messing around in the kitchen to come up with new and tasty treats so be sure to stop by often.
Beach Club Tavern offers cold beer and wine, Oregon lottery, two pool tables, a dart board, a TouchTunes jukebox, outdoor smoking/drinking, free Wi-Fi all in a casual environment. They also sell beer/wine to go.
Beach n Brew offers a traditional tavern menu and a full lounge along with sports events on wide screen television sets.
Bee Bop/Big Kahuna Burgers
Bee Bop/Big Kahuna Burgers offers casual dining, specializing in burgers and sandwiches and seasonal outdoor seating in downtown Seaside.
Billy Mac's Seaside Bar and Grill
Billy Mac's Seaside Bar and Grill offers a variety of foods from burgers to tacos. Also home to a huge selection of beer and cocktails.
Serving food in a tavern setting with a full service lounge.
Dundee's is a full service bar and grill offering dishes such as hand battered halibut fish-n-chips, chicken breast strips, 1/3 lb. hand-pattied burgers, and fresh pizza dough and sauces made daily. They also offer steaks, seafood, subs and sandwiches and over 30 TV mon…
End of the Trail Public House
End of the Trail Public House is a full service bar with a simple yet tasty menu. The pub is full of TV's so you wont have to miss any sports action. Also featuring many activities like Darts, Pool, Shuffleboard, Video Lottery, and an outside patio.
Legends Public House offers tasty food including a variety of appetizers, sandwiches and salads. Enjoy a beer, wine or cocktail in this unique atmosphere. Located in the Seaside Outlets.
The Relief Pitcher serves burgers, sandwiches and seafood in a tavern setting. They are open for lunch and dinner and offer outdoor seating when weather allows and offer a full service lounge.
Ruby's Roadside Grill offers traditional grill food including gourmet burgers, fries, hot dogs, soups and salads, shakes, a kids menu, and much more. Diners also enjoy local micro brews, wine by the glass, a 16-foot fire pit, pet friendly patio, mountain views, and roll-up doors that allow for open air dining during fair weather. Ruby's is open daily for lunch and dinner.
Bagels by the Seas is a casual daytime outpost offering homemade bagels, espresso drinks & sandwiches, plus a drive-thru.
Beach Day Coffee offers a full espresso bar, smoothies and baked goods just a short walk from the Seaside Promenade.
A drive-thru coffee shop, with an experience unlike any other!!
Burly and the Bean is a full service espresso drive-thru offering a variety of tasty coffee treats and other drinks, as well as baked goods, including bagels from Bagels By The Sea.
Caffe Latte offers a full service espresso bar and gift shop along with fresh baked goods inside the carousel mall.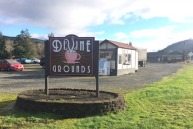 At Divine Grounds Coffee they proudly serve Sleepy Monk Coffee. Patrons can enjoy from a selection of espresso and smoothies as well as pastries and sandwiches for both breakfast and lunch.
Dutch Bros. drive-thru chain is known for specialty java & espresso drinks, plus teas & smoothies.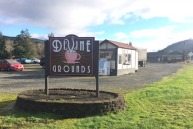 Internet Coffee offers a full service espresso bar, baked goods, and access to computers.
Liberty Coffee at The Resort
Liberty Coffee at The Resort is located within the Worldmark by Wyndham Resort. They serve Sleepy Monk coffee and pastries that are hand picked from local bakers, including Belgian waffles. Gluten-free and vegan items available.
Pacific Pearl Coffee proudly serves Sleepy Monk Coffee. They feature local art and offer daily food specials. Located inside the Seaside Inverted Experience.
Tsunami Sandwich Company is just a few yards from the beach and serves sandwiches featuring Thumann's Deli meats and cheeses, 16 flavors of Tillamook Ice Cream, homemade chili and Ivar's Clam Chowder.
Grizzly Tuna offers drive-thru customers fish and chips made with tuna.
Tacos Locos is a drive-thru Mexican taqueria with a large variety of food including Tacos, Burritos, Asada fries, Gorditas and much more.
Bell Buoy/Buoy's Best Fish House
Bell Buoy is a local seafood market offering fresh options for those who want to prepare their own seafood. Next door, Buoy's Best Fish House prepares and serves fresh seafood dishes for dining in or take out.
Camp 18 Logging Museum & Restaurant
An airy log cabin with an antler chandelier & fireplace, offering American classics & cocktails. Have the opportunity to learn about the logging history of the northwest, and about the structure itself.
Dooger's Seafood & Grill specializes in clam chowder and seafood entrees served fried sauteed or Cajun style. They also offer steak, fettuccine, sandwiches, salads and homemade desserts. Available beverages include cocktails, beer and wine.
El Trio Loco offers a variety of authentic Mexican cuisine.
Finn's Fish House offers seafood, pasta and steak selections. Family dining as well as a full service lounge are available. The lounge features Oregon Lottery and the Pac 12 Network. Open for breakfast, lunch, happy hour and dinner.
Firehouse Grill serves breakfast and lunch in downtown Seaside.
Great Wall Chinese Restaurant
Great Wall Chinese Restaurant serves traditional Chinese-American dishes, with either dine in or take out. This restaurant also holds a bar and lounge area.
Serving traditional Mexican cuisine.
Maggie's on the Prom offers ocean front dining and a seasonal outdoor patio. They serve breakfast, lunch, happy hour and dinner daily. Choose from seafood, local crab, steaks, salads, sandwiches, burgers, clam chowder, frittatas, crepes, chicken fried steak, and much mo…
McMenamin's Sandtrap Pub offers Northwest-style pub fare that incorporates seasonal ingredients from local and regional growers and producers (including Tillamook Cheese and Ice Cream, Pleasant Valley Pickles, Sheridan Fruit Company, Country Natural Beef and many others…
A&B Pizza is passionate about the pie they create. Made fresh daily.
Angelina's Pizzeria & Cafe
Angelina's Pizzeria & Cafe makes their dough fresh daily for dishes such as calzones, stromboli, salads and panini sandwiches made with homemade Foccacia bread.Angelina's also offers outside catering for events.
Gearhart Bowl & Fultano's Pizza
Visit Seaside's new bowling alley, Gearhart Bowl. Enjoy leather couches, giant HDTV's, state-of-the-art scoring monitors, USB built in charging stations on every lane, arcade games, Oregon video lottery, and Fultano's Pizza.
Ranked in the top 50 pizzas in the nation. Pizza a' fetta decided to expand the concept to Seaside, Oregon. This location will offer the same great quality products and service that Cannon Beach offers. The Seaside location will take on a new interior design that reflec…
Pizza Harbor not only has pizza but also baked sandwiches, salads and hot wings. They have a gluten-free pizza crust option available too. Stop in for casual, relaxed family dining since 1979, with delivery available.
Seaside Fultano's Pizza offers pizza, sandwiches and more in a family friendly dining atmosphere, for take out, or by delivery.
Dundee's Donuts are made in house and served fresh daily in downtown Seaside.
Mas Savory Shaved Ice offers natural fruit shaved ice and smoothies with flavors rooted in Mexican culture. These Raspados are all natural with no powders or artificial flavoring. Enjoy your favorite flavor or be adventurous and try something new.
Phillips offers homemade chocolates and nostalgic candies, and saltwater taffy at the oldest continually run business in town. Since 1897, Phillips has handcrafted sweet treats in Seaside.
Portland Fudge Co. has been making candy delicacies for over 20 years. Shoppers can not only enjoy fudge that is paddled on marble tables to produce smooth, creamy fudge but a variety of other sweets as well.
Rascals offers a self-service salt water taffy boat, a variety of Jelly Belly candy, gourmet candy, or super sweets in downtown Seaside.
Schwietert's Cones & Candy
Schwietert's offers a huge selection of bulk candy, taffy, Jelly Belly, retro goodies, nostalgic candy and ice cream.
Sea Star Gelato blends traditional Italian flavors with beach inspired creations in their homemade gelato, featuring all natural ingredients.
Seaside Candyman offers 170 flavors of saltwater taffy including sugar free flavors. Offerings also include chocolates and jelly bellies.
Tuckered Bear Ice Cream serves sweet treats including ice cream and homemade waffle cones in a take-out venue. Tuckered Bear is a cash only establishment.
We're All Ears offers classic elephant ears in a take-out, food court style venue in downtown Seaside.
is a place of many culinary delights and Seaside restaurants are happy to share this bounty. Seafood, of course, is the top attraction for most culinary enthusiasts, but many restaurants also feature the best of regional meats, cheeses, fresh produce, fruits, nuts and Northwest wine and beer. You can choose from a fine dining experience, casual family friendly restaurant or nibble as you explore with many street-food and to-go options.